Short dance video Silver Feet is showing online in Edinburgh Fringe Festival 2021 !
Silver Feet ( Online On demand dance video) is playing in the website of Edinburgh Fringe Festival.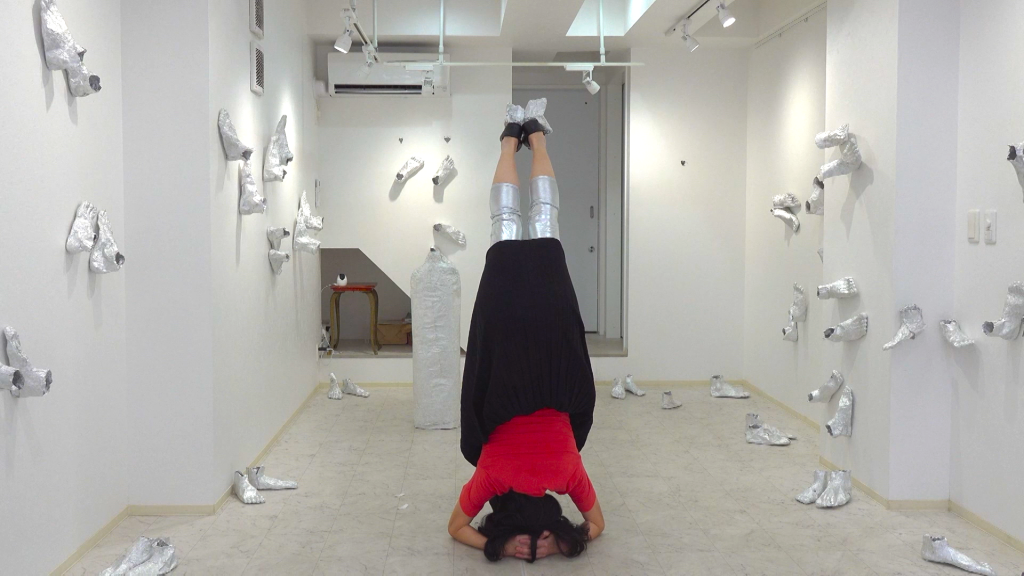 Synopsis
It is permitted to alter the shape and structure of the sculpture Standing Still. I recall that the material of aluminium was precious in the era of Napoleon III.
Watching the silver foot and watched. Pushing and pushed. Without pulling and pulled. Turning and turned. Crushed and thrown.
I no longer knew if I was dancing or was danced?
Then, I was standing still like the Cicada Shell sculpture.
Production Members
Dancer and Choreographer: Akiko Ono
Sculptor: Hiroshi Kinoshita
Music: Masaki Yoshida
Filmographer and Editor: Shigeru Kawai
* The menber's profile is written below.
Artist statement
my intention behind the work is to embody the senses ゙Utsusemi゙and "Tatazumu"which the people including me share living in a society which tends to be coercive. ゙Utsusemi゙ can be interpreted as a cicada shell as a living human being.both being transient. ゙Tatazumu゙means a loneliness held by modern people. Aluminum foil is used to represent such senses with its fragile quality.
H.Kinoshita
The link to see the video is 👇
https://tickets.edfringe.com/whats-on/silver-feet
Dancer& Choreographer: Akiko Ono
Akiko is an international Japanese choreographer who has performed and made work in Tokyo, NYC and London and artist director in Akiko Dance Project .
She trained at Laban Center Professional Dance Diploma Course in London and NY State University of Brockport with MA (Master of Art) in Dance.
Her interest for movements started since she was a child.She was so active that her parents called her a romping girl ! Her interest in movements drove her to pursue movement theory in Laban Institute both London and NYC.
She worked with NY choreographers such as Mark Morris, Kirsty Simson.
Kirsty's Aikido movement influenced her dance style which has the flow of "Ki" energy in Taichi and Baguazhang.
Her dance film " Cell Phone Dance" was nominated at Dance film Festival in Buenos Aires and has been an archive in New York Performing Arts Library.
In 2014, she worked with British dancers for " Okuni "(Kabuki dancer) performed at The Place in London and Other Theater in Briton, funding by Great Britain SASAGAWA Foundation.
She has collaborated sculptures for a couple of years ,and in this piece she creates dance with sculptures which could be modified the shape by external action.This project is supported by Nakagawa Special Steel INC in Tokyo.
Sculptor : Hiroshi Kinoshita
Hiroshi Kinoshita was born in Shanghai in 1940. He had many exhibitions both by himself and groups at art galleries in Tokyo. His works were in museums such as Tokyo Metropolitan Art Museum and Setagaya Public Museum in Tokyo.
About the sculpture
Title Standing Still, The Cicada Shell
These sculptures are my fading memory and situation which has changed rapidly. The fragile material of 0.3mm iron wires and aluminum foil are used.
Music : Masaki Yoshida
Masaaki Yoshida is Japanese scientist and composer in UK. He becomes globally recognized for his unique live shows, which many people have described as "like watching a painter drawing on a white canvas", as he creates electronic music completely live using a sampler (MPC2500) and a keyboard, right in front of the audience.
Some of his music has appeared on BBC Radio. He has released some singles and albums both on CD and DVD including Mirage and New World. http://anchorsong.com/
Video & Film : Shigeru Kawai
He owns and directs his company of Media Innovation. He was a faculty member of several University such as Saitama Public University and Shoubi Gakuen University and has taught video& photo editing.He also published his books such as The structure of Lenz and The dictionary of Lenz.
Translation : Alison Davis-Kurley
She is an English teacher, living in Portugal.Her degree is in the performance arts with dance. In the United Kingdom she was a primary school teacher for eighteen years and has also taught dance to teenagers and young adults and have delivered education-based training sessions to groups of adults.
Akiko Dance Project is a dance production which choreographer Akiko Ono works for dance choreography and workshops. Akiko create dances with various artist not only dancers but actors, musician and sculptors. She also have dance workshops based on improvisation and creation for children and adults.
She regularly upload videos of contemporary dance performance and exercises.
体幹トレーニングとダンス Core Training & Dance
大人から子どもまでのダンスの振付、即興、創作を含むコンテンポラリーダンス、創作ダンスエクササイズを動画で発信。ダンサーのための体幹トレーニング動画もアップしています。 Uploading videos of creative dance for kids, contemporary dance for adult...